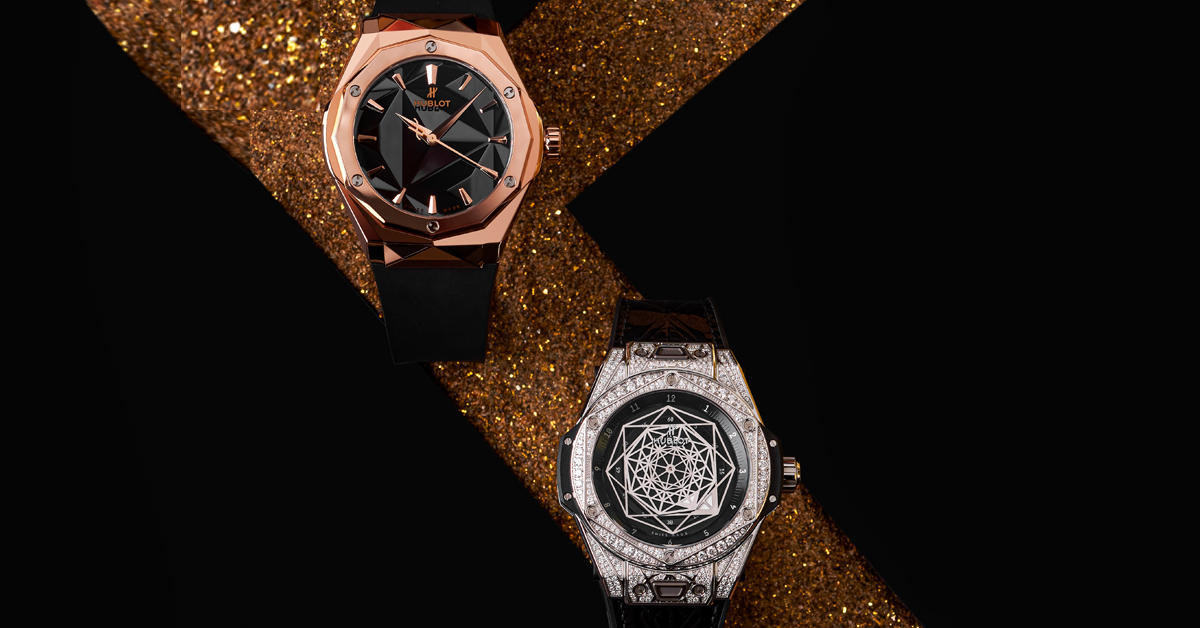 As a leading player in the luxury watch market, Hublot boasts a range of sophisticated timepieces to suit every watch collector's personal style and taste. Known for its partnerships with esteemed brands such as Ferrari, the Swiss watchmaker surrounds itself with a family of brand ambassadors who embody excellence in their respective fields, showcasing the elegance and functionality of its collection.
Since its inception in 1980, Hublot has come up with an impressive array of remarkable watches, many of which have become valuable collectibles. The following are some of the brand's most iconic timepieces and collections.
Sang Bleu II Collection
The trio in Magic Gold, green ceramic, and black ceramic is the greatest one available from the Sang Bleu II Collection. These three new Sang Bleu II models demonstrate how adaptable the design is as they are all made of scratch-resistant materials, including Magic Gold, to which we applied a set of keys without causing a scratch.
With dimensions of 55mm from lug to lug and a thickness of 16.5mm, the casing is water-resistant to a depth of 100 metres. The black ceramic variant is more ominous while achieving the same impact as the green ceramic model, which is brilliant and shiny with a shine that shows all the facets and angles in a vibrant way. The skeletonized dial also adopts a Sang Bleu aesthetic, with lines forming geometric patterns all throughout.
These luxury watches are really cosy on the wrist and have a rubber strap, while the ceramic variants offer a more carefree, fashion-forward vibe. Naturally, all three are scratch-resistant, allowing users to use them without worrying about any damage. These watches are original in design and completely durable.
The Big Bang Collection
It's important to note that the Big Bang was seen as a huge watch when it first came out. There are several well-known timepieces in this collection such as the Hublot Big Bang Unico. The smallest Hublot watch you can now get (if you're a man buying men's watches) is 44mm wide. A Classic Fusion weighs 45mm which is pretty heavy as far as luxury watches go. This massive size is what brought attention to the big bang collection and made it as famous as it is today.
The beginning of a watchmaking brand's success story has been sparked by a number of distinctive clocks. However, none of them possess the Big Bang's sense of fashion or individuality. Watch enthusiasts were aware they were looking at something exceptional from the initial model, which had the now-iconic rubber band and big face. They are still.
One Click Collection
The One Click by Hublot is another well-known line that mixes porcelain, diamonds, and velvet to produce a particularly feminine dress watch. Some of its pieces are extremely limited edition, while others are coveted by watch collectors and enthusiasts across the globe.
The watch features a circular casing with a total of 42 diamonds embellishing the bezel. Three different velvet colours are available: blue, black, and white. In order to offer each watch a more coherent, fashionable appearance, this velvet is present not only on the strap but also on the dial.