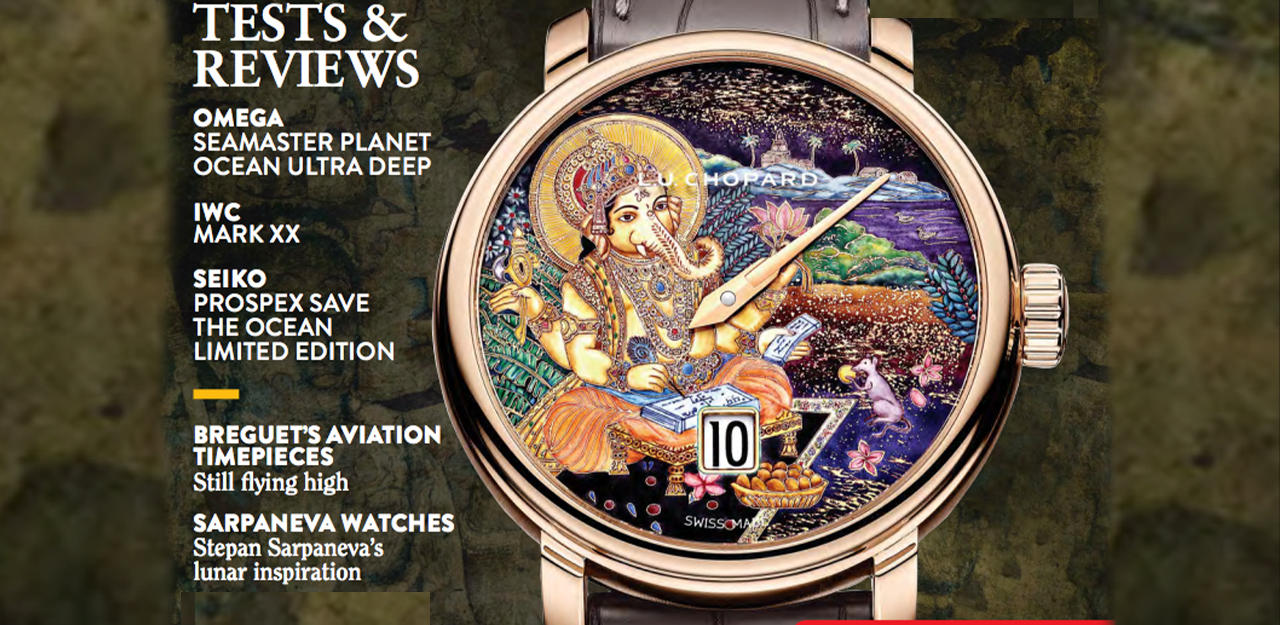 As the world of luxury watches marches on, it continues to captivate and entice modern men. A watch today serves more than just L.U.C Quattro Spirit 25m - 5-piece limited-edition:18-carat rose gold.L.U.C XP Urushi Ganesh Edition 10-piece limited edition:18-carat rose gold.
Origin Of Chopard
Founded in 1860 by Louis-Ulysse Chopard in Sonvilier, Switzerland, Chopard has been owned by the Scheufele family of Germany since 1963. & Cie S.A. Chopard is a renowned name for crafting rich intricate Swiss watches, and has been at the forefront of developing distinctive representations of art and timepieces for different cultures, whether the subject is the Chinese New Year or Italian architecture, all are artistically crafted on the dials. This time, the Maison has paid tribute to Indian Mythology by portraying an exclusive reinterpretation of Lord Ganesha.
Chopard Is Known To Unveil Timeless Intricacies: Inspired By The Supreme Lord in Indian Mythology: Lord Ganesha
This year, once again Chopard, ahas showcased its intricate craftsmanship with its newly launched two new editions inspired by Lord Ganesha:

L.U.C Quattro Spirit 25 Ganesha Edition.
L.U.C XP Urushi Ganesh Edition.
Chopard's cultural curiosity and sensitivity are reflected in each of the watches in this refined and powerfully exceptional timepiece. These innovative timepieces pay tribute to the supreme Lord in Indian Mythology, that represents good luck, money, prosperity, and wisdom in the Hindu pantheon.
Ganesha has an elephant's head, he is regarded as the God of wisdom and memory, a link between the macrocosm and the microcosm, capable of removing obstacles and inviting new beginnings in life. Chopard, thus proposes a theme subtly linked to the Indian symbolism of Ganesh with his large belly and pachyderm head and trunk. Lord Ganesha, is also accompanied by a mouse – depicted in some portrayals as serving as his mount – which he is said to have captured during his childhood when the little creature was terrorizing those around him.
The New Ganesh Edition watches have been crafted in two iterations—a Grand Feu enamel one, and another, Urushi."The concept behind the Chopard Ganesh watch stems from a deep admiration for the rich cultural heritage and spiritual symbolism in India, in particular the connection with Lord Ganesh," says Karl-Friedrich Scheufele, CEO, of Chopard. "We wanted to create a timepiece that pays tribute to this revered deity while showcasing the craftsmanship and artistic excellence that define Chopard. Lord Ganesh, known as the remover of obstacles and the bestower of wisdom and intellect, embodies qualities that resonate with individuals worldwide. We aimed to capture the essence of Ganesh's divine presence and infuse it into a watch that would serve as a source of inspiration, positivity, and harmony for its wearers."
Celebrate Indian Supreme Spiritual Symbolism With Chopard's Newly Launched Timeless Ganesha Editions:
The L.U.C Quattro Spirit 25 Ganesh Edition - Limited To 5 Pieces
L.U.C Quattro Spirit 25 Ganesh Edition is created by the brand's enameling artisan and features an exquisite Grand Feu enameled dial of Spirit 25. It is ethically encased in 40mm in diameter and 10.8mm thick in 18 carrots of rose gold at very high temperatures (820°C). The movement is the L.U.C 98.06-L, which is a jumping hour movement with a power reserve of 8 days.
The hours appear through an aperture positioned at 6 o'clock to ensure that the minute's hand does not obscure the sight of the hour's change, which takes place instantaneously. Thanks to the four stacked and series-coupled barrels based on the unique Chopard Quattro technology – which usually allows up to 216 hours of autonomy – the L.U.C Quattro Spirit 25 Ganesh Edition maintains an over 190-hour power reserve, despite the amount of energy required for the rotation of the hour's disc.
The L.U.C XP Urushi Ganesh Edition - Limited To 10 Pieces
A limited edition of 10 pieces, the L.U.C XP Urushi Ganesh Edition is an incredible timepiece. The 10 iterations of L.U.C XP Urushi Ganesh Edition are featured in the highly slender case in ethical framing of 18-carat rose gold. The case is 39.5mm in diameter and 6.8mm thick. The beauty of the dial is accentuated by the medley of gold, pearl, and Urushi lacquer with unique craftsmanship framing a dial portraying Lord Ganesh. The movement is the L.U.C 96.17-L, which is an automatic movement with a power reserve of 65 hours. Specially intended for the L.U.C XP Urushi Ganesh Edition, are produced by the workshops of the century-old company, Yamada Heiando — a meticulous task requiring no less than 20 hours of work for each watch. The dial has been made by a Japanese artisan, drawing on centuries of expertise in the Maki-e technique, lending symbolism and a sense of prosperity to this coveted edition. Following this refined ancestral technique, gold flakes – placed between layers of lacquer made from the sap of the Toxicodendron vernicifluum tree – light up the background.
Conclusion
The above two Ganesha editions have signified a great way to celebrate Indian supreme spiritual symbolism. Both of these editions of the watch are available at Johnson Watch Co,